In the past couple years, we've seen an important increase in the collective awareness of the impact of our lifestyle on the environment. Customers are shifting their habits towards greener solutions.
For instance, the number of EVs in use worldwide between 2016 and 2021 has grown at an average rate of 1.5 times per year. Looking at preorders, this rate is expected to double by 2023.
This massive adoption of EVs puts a lot of pressure on manufacturers to provide efficiently sustainable products that have minimal impact on the environment.
Transportation is one of many industries that need to decarbonize their economies in a common effort to reduce our carbon footprint: this sector represents one-fifth of global carbon dioxide. This is a significant challenge for society since it requires us to change our habits, as well as for large manufacturers with complex systems that are already established and potentially difficult to change. Developing sustainable products requires a deep knowledge of their full life cycle: from the extraction of the raw materials until the final disposal, as well as understanding their usage.
Many important decisions are made in the early stage of the development of new products. The lack of accurate data can lead individual stakeholders to make poor decisions that can be costly to change past the development stage.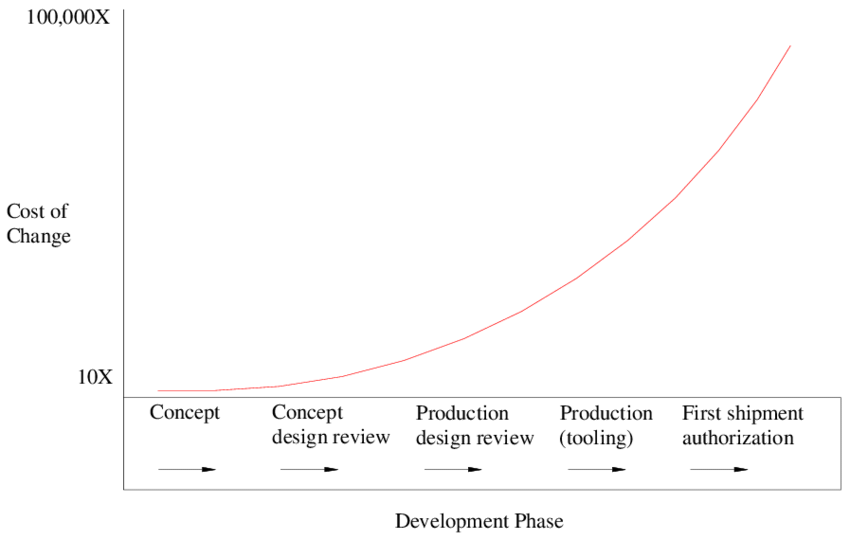 Product Life Management (PLM) is an alternative that can help you make better decisions and make your business more sustainable!
What does PLM offer to companies?
PLM offers manufacturers a means to implement, control and optimize their processes based on accurate data throughout the lifecycle of the product. Change Management is one of many processes that is essential in the product's development. Such a process assures that when an issue is raised, the necessary flow is triggered to correct it and integrate the change in the product.
For instance: change management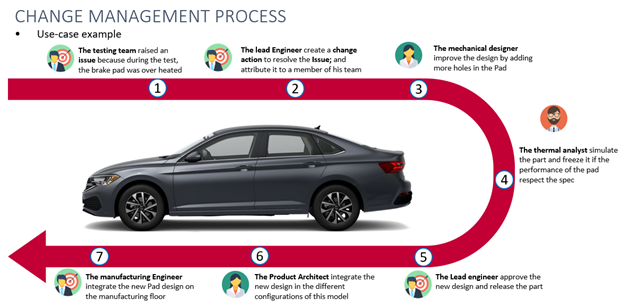 The benefits of the PLM tool can go beyond the data produced in the development phase; we can integrate metrics based on external data to evaluate the sustainability of the product and therefore the business sustainability.
Meeting the needs of the present without compromising the ability of future generations to meet their own needs. –
Although the concept of sustainability has become trendy, the idea goes way back to social justice, conservationism, and other movements. Those ideas came together by the end of the twentieth century to create the concept of sustainable development.
In 2015, all the United Nations Members States adopted 17 sustainable development goals for 2030. The goals are universal and represent the minimum required to achieve a better and more sustainable future for everyone. They can be grouped into three principal dimensions: environmental, social, and economic.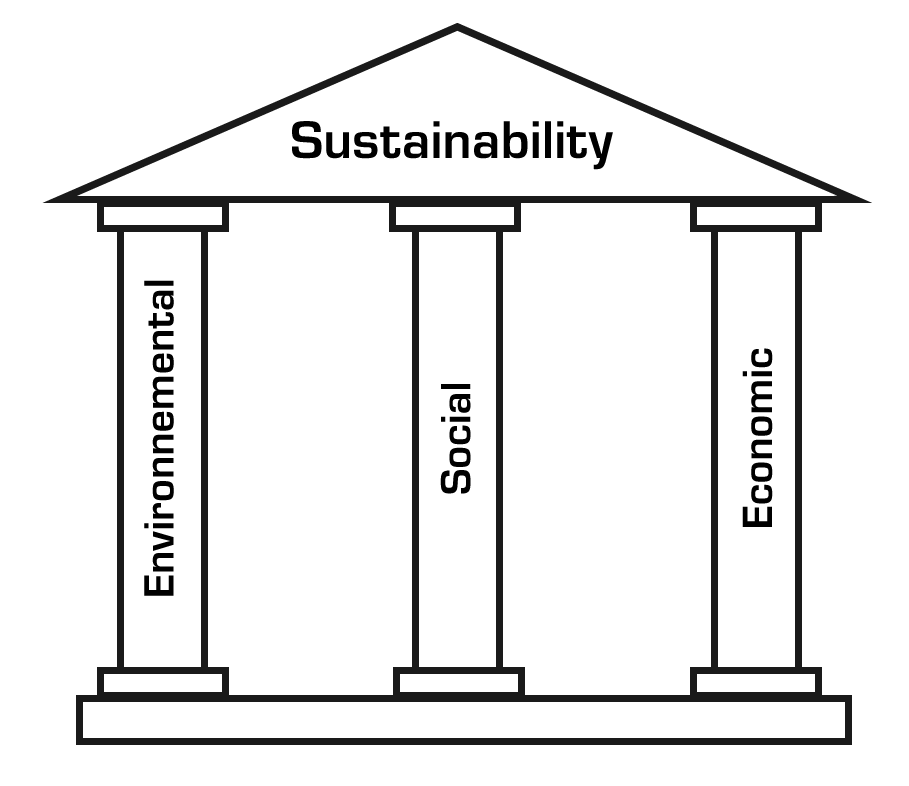 Let's examine how PLM can help a business meet the three pillars of sustainability: environmental protection, social equity, and economic viability.
Environmental protection
When we talk about sustainable development goals, the environment usually gets the most attention. Manufacturers focus on the reduction of their carbon footprints by optimizing their packaging, reducing energy consumption in manufacturing, and reducing the waste of raw materials, etc.
Besides helping the environment, some activities also generate a positive impact on the economy, such as improved business sustainability resulting from waste reduction.
Two ways that PLM contributes to making business more sustainable:
Simulation: Simulation can help improve the design of a digital model by predicting its behavior in real-world conditions with a maximum of precision. A reliable FE model can help to reinforce the product durability and reduce the risk of test failure when it comes to certification. Moreover, with a digital model, we can run many iterations to optimize the material, which gives stakeholders more choices when it comes to the viability of their design.
Closed-loop system: Digital modelling is a good solution to validate the design of a product, but sometimes, the results are disconnected from reality. In a closed-loop system, we can feed the digital model with real-world data and create a digital twin. A closed-loop system also ensures that the business reduces the waste of natural resources by reuse or recycling. Read more about closed-loop systems on our blog.
Social equity
The social pillar involves human rights and the ability to satisfy basic human needs. The lifecycle of a product normally involves human resources at different levels: from the exploitation of raw materials to the service of the product. Manufacturers should be able to achieve a balance between customer expectations (price, quality, preferences) and the exploitation of human resources.
Without a PLM solution, the management of data and processes may become overwhelming.
Here are 2 ways how PLM makes your business more sustainable on the social pillar
Raw material exploitation: For a long time, coltan has been mined in Democratic Republic of Congo (DRC) to produce electronic devices. Workers in the mines put their lives in danger without the right equipment or appropriate wages, etc. That kind of information isn't necessarily available to the leaders making business decisions of using Coltan in their product. PLM offers visibility on material certification (the source of the material, how it was exploited, …) and helps enforce processes making sure that the people at the bottom of the pyramid are treated fairly, for example, a fair-trade certification.
Employee productivity: PLM helps increase employee productivity. It facilitates collaboration in the workforce and the availability of accurate data to everyone, which allows teams to eliminate irrelevant meetings or emails to have access to the latest design. Moreover, a cloud PLM solution like Dassault Systèmes' 3DExperience can allow employees to work remotely from anywhere which may reduce the usage of transportation and time spent in traffic.
Economic viability
The economic pillar is closely linked to its social and environmental counterparts. In the case where a company reduces waste in developing a product, the business becomes more profitable and sustainable. This pillar is important in the Sustainability of an organization since it ensures the longevity and prosperity of a business. PLM offers manufacturers the ability to develop products faster in response to rapidly evolving customer requirements by making it easier to manage multiple configurations of a product and getting them to market on time.
How do we get your business more sustainable?
The lifecycle of a product is a complex system where the data from the different mechanisms can be non-homogenous. This makes it challenging for decision-makers in different industries to implement solutions that are more sustainable. A PLM solution like 3DExperience offers an End-to-End process to manage the product's lifecycle data. A single source of truth for all disciplines, stakeholders and processes can help a business achieve sustainability.
What do we offer?
Our partnership with Dassault Systèmes allows us to offer you an end-to-end solution with the 3DExperience platform. With our expertise in process integration (change management, configuration management, …) and simulation, we can support you and your business to develop products that are more sustainable.
A solution like 3DExperience can connect people, data, and processes together on one single platform. This model-based approach breaks silos, facilitates the collaboration of multidisciplinary teams, and gives access to the stakeholders to a single source of truth which means decision-makers are better equipped to discuss product development. This gives them greater confidence to send prototypes for testing and validation, as well as a clearer perspective on the durability of a product through its end-life process.
References