Business leaders are aware of the importance of cloud services and platforms for digital transformation; 90% of top-tier organizations have already taken advantage of them, and 89% have made digital transformation a strategic focus.
The public cloud market is flourishing, increasing at almost seven times the rate of the IT market. Cloud computing is the driving force behind digital transformation for engineering, providing organizations with faster delivery, scalability, cost savings, and improved security.
The cloud provides a secure platform to store and share confidential data, making it easier to collaborate with remote workers and protect sensitive information. But the cloud is also a network of the most powerful computers, kept up to date by a dedicated team, using the latest version of the most advanced engineering software, among which Abaqus.
Engineering services and FE analyses can take advantage of such a network of best-in-class hardware to speed up the analyses and avoid buying a local machine.
Why compute on the cloud instead of a local computer?
Buying a local computer to compute engineering simulations can be a challenge for several reasons.
One of the major challenges is making sure the hardware is powerful enough to handle the simulations.
Engineering simulations often require powerful computing hardware and software, such as a large number of CPUs, high-performance GPUs, large amounts of RAM, and complex software packages. Without the right hardware, the simulations may not run correctly or may take too long to complete.
Depending on the type of analysis you need to compute, the ideal hardware configuration changes.
Explicit analyses are more scalable, so you want to maximize the number of CPUs. Standard analyses are running faster using a powerful GPU, but they need more RAM.
By buying a local machine, you'll be limited by the final number of cores and the amount of RAM.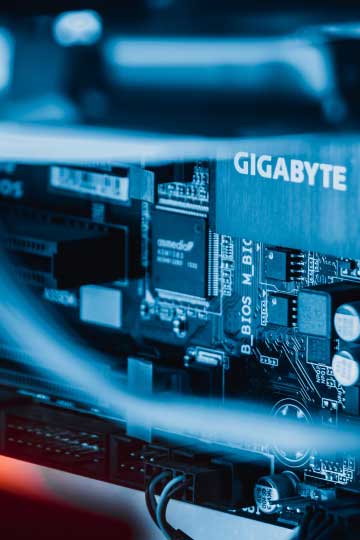 Another challenge is making sure the computer is kept up to date.
Engineering simulations often require the latest hardware and software, so it is important for the computer to be regularly updated. This can be a time-consuming and costly process.
Additionally, it is important to make sure that the computer is properly maintained to keep it running smoothly and efficiently. This involves handling painful window updates, anti-virus protection, and all drivers' updates.
To ensure a safe and collaborative remote access, you must set up a VPN. Setting up a virtual private network can be difficult because it requires configuring network settings on both the local and remote computers, as well as setting up security protocols to ensure secure access.
Remote desktop access for multiple users requires setting up user accounts and permission, as well as making sure that the remote desktop server is properly configured to handle multiple users connecting simultaneously.
What are the benefits of doing simulations on the cloud?
With Abaqus on demand, on the cloud, you can keep using your preferred pre-processing software such as Abaqus, HyperMesh, or Ansa. Generate your input file and upload it to the cloud via a web-based interface called dashboard. You can select the most adapted computing power to the type of analysis you need to run, among 8, 18, 36, and up to 144 cores.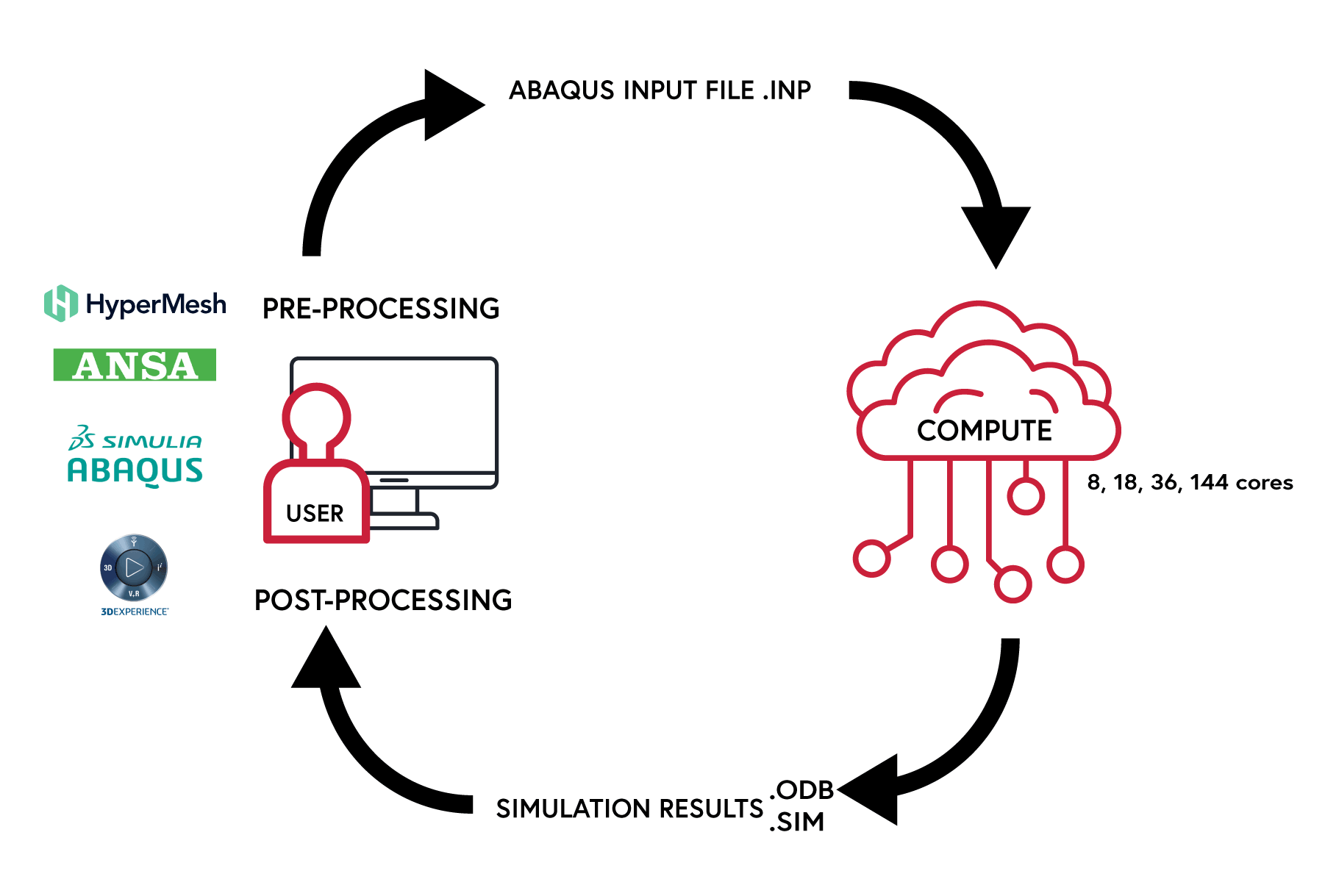 As Dassault Systèmes is expanding his cloud capacity by spring 2023, the RAM shouldn't be an issue.
Moreover, you are not limited to one analysis, so you can run unlimited parallel analyses, as long as you have the licensing for it.
What are my licensing options for the cloud?
Regarding the licensing, you have the option to use tokens.
You can buy a number of tokens to be available in your license pool. Running an analysis will temporarily borrow a number of tokens from your license pool. These tokens are in-used for the time being and can't be used for another job. Once the job is completed, the tokens are released and are available again in the license pool.
If you have enough tokens, you can run multiple jobs at the same time.
The higher amount of CPU you use, the higher number of tokens borrowed from your license pool. But using more CPUs often results in borrowing the tokens for a shorter period, as the analysis is running faster.
The other option is to use credits.
Credits consume per hour of calculation. Once you have consumed all your credits, you have to buy new ones.
Credits are great for what is called burst computing. If you have a short period of higher need for computing power, you can buy and consume credits to give you extra computing capacity.
As long as you have credits to consume, you have no limitation on the number of jobs you can run in parallel.
For Explicit analysis, you can easily predict how long it's going to run. So, you can easily predict credit consumption and know how much running analysis is costing you.
For Standard analysis, implicit, analysis, it's depending on the convergence rate. So, if you're not sure how fast your analysis will converge and complete, you can't really know how much running your implicit case is costing you.
Ideally, you would think about combining tokens and credits.
In conclusion, cloud computing has become a driving force behind digital transformation, offering organizations faster delivery, scalability, cost savings, and improved security. For mechanical engineering simulations, buying a local computer can be a challenge due to the need for powerful hardware and software, frequent updates, and maintenance.
Using a cloud service like Abaqus on demand can provide a cost-effective solution with access to unlimited parallel analyses, and the ability to select the most adapted computing power to the type of analysis.
With the option to use tokens or credits, clients can choose the payment method that fits their needs best.
As remote work becomes more common, cloud computing allows for secure collaboration and access to data from anywhere in the world. By leveraging the power of the cloud, mechanical engineering companies can focus on their core business, saving time and money while improving efficiency and productivity.
Interested in learning more? Visit our cloud computing page!