It's well known in the finite element industry that creating the mesh and connection is very time-consuming and most often is the longest part of an FEA project.
Scripts and custom automation techniques could be used to increase this productivity, however, now it's no longer needed as these tools are implemented natively in the Simulia 3DEXPERIENCE platform tools.
Tools such as auto FEM and connection detection can drastically change the project timeline by letting the machine do the work.
Automated mesh creation
Two types of automation tools for mesh creation are available in the 3DEXPERIENCE platform: User-driven and Advanced.
Both have the same principle; it allows you to select mesh techniques and apply them to specific parts of the model using filters. The main difference is the Advanced method is a one-click method that is based on keywords, on the opposite the User-Driven is a more controlled method.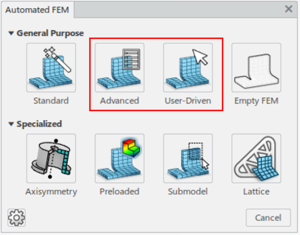 Using the auto FEM tools will create the structure of a FEM in the model, this includes an abstraction shape and a finite element object in the parts automatically. The abstraction shape is and copy of the main CAD geometry that can be modified without modifying the original geometry.
For example, for a shell, the mid surface would be included here. The finite element object is where the mesh and properties are included, for instance, a surface quad mesh and a shell section. This will be created for all parts/assemblies selected.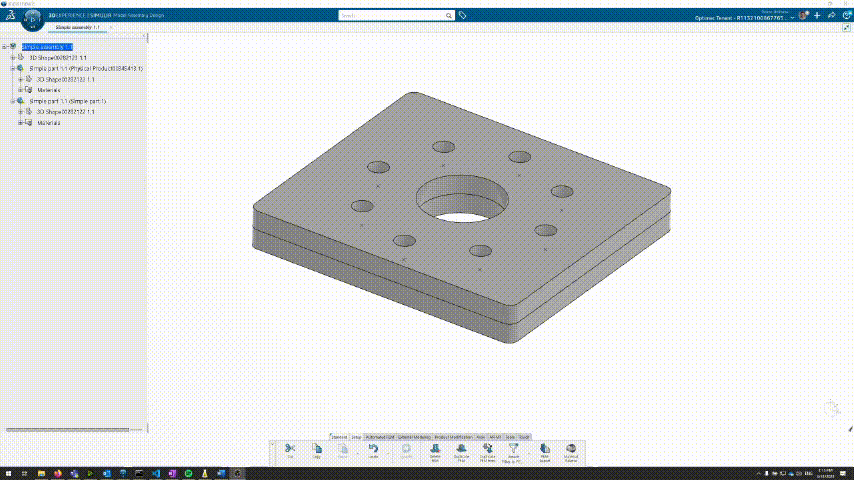 Abstraction shape creation is a huge asset to this toolset, for example, if shell mesh is used a mid surface will automatically be created based on the solid geometry without any user manipulations.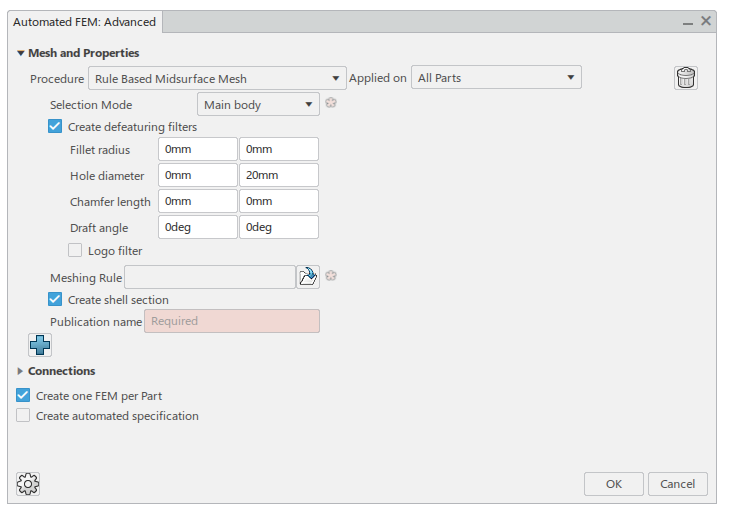 In addition, automated defeaturing can be added to both surface and solid geometries, this will allow you to automatically apply holes, logos, chamfer, and fillet defeaturing to the abstraction shape.
Notice that it's applied to the abstraction shape, not the original shape, to preserve the original geometry.
Using these tools requires mesh rules.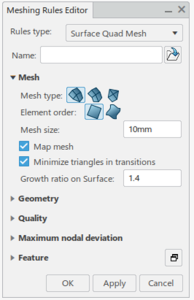 These rules are a very powerful tool that can keep consistency across models, as the rules can be saved and shared across team members.
Mesh rules will allow you to select mesh size, type, order, quality rules, and much more. The rules will be applied to all parts selected in the auto FEM.
Multiple rules can be used in the same auto FEM operation, parts that have specific requirements can use specific rules.
Fastener detection
Once the mesh is created, connections are the next step in the modeling workflow. Three automated methods are included in the 3DEXPEREIENCE toolset: point fastener detection, virtual bolt detection, and line fastener detection.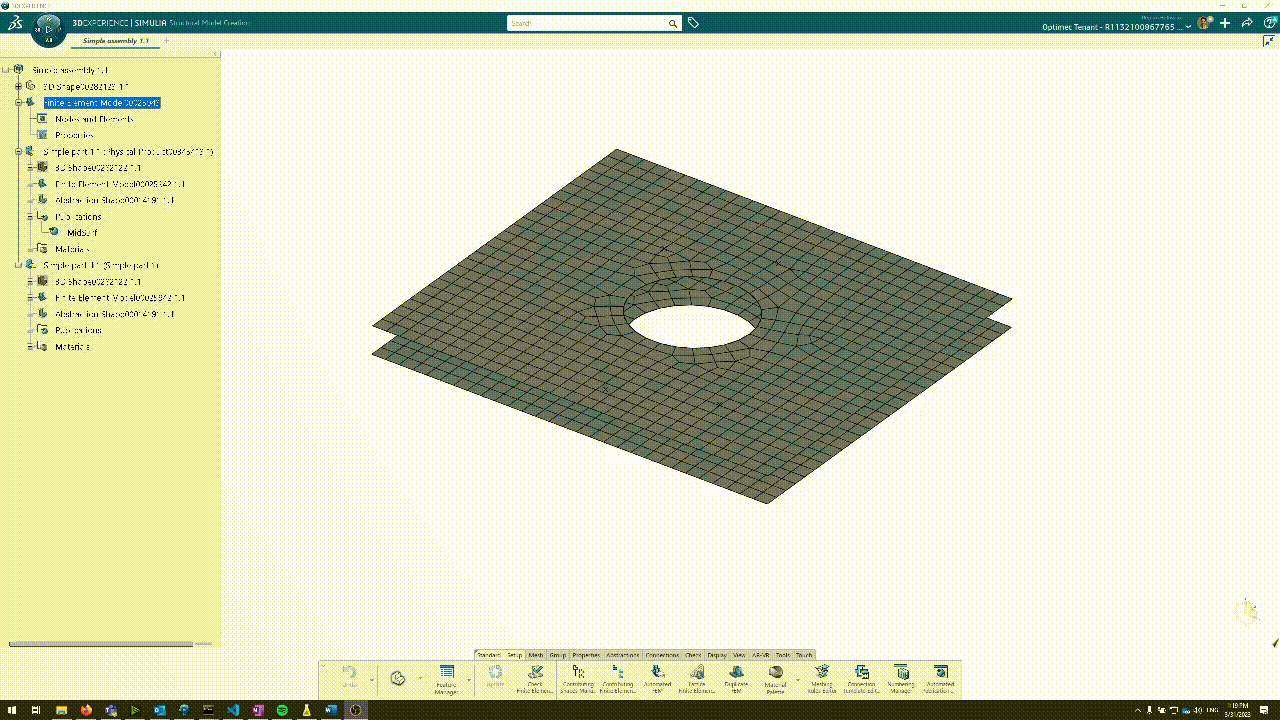 Point fasteners are mostly used for rivets and spot welds, virtual bolts are for bolts, and line fasteners are mainly used for welds.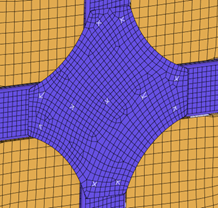 By simply selecting the part list (search domain) and locations of the fasteners (points), the algorithm will create a list of all fasteners based on specific user parameters such as search tolerances, fastener length, diameter, and more.
For the construction of these fasteners, a multitude of methods can be used, such as rigid connectors, deformable, beam elements, springs and much more are available.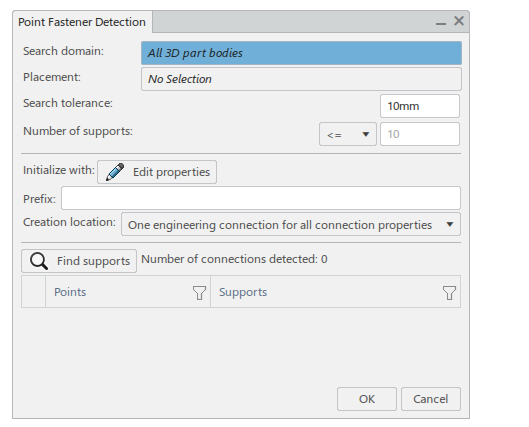 One key difference between point fastener detection and virtual bolt detection is the method to find the location of the connection.
For point fasteners, points are required.
For virtual bolts, only holes in the mesh/geometry are needed.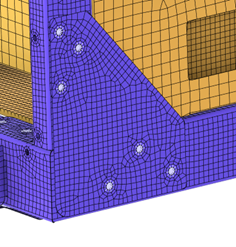 The advanced algorithm will automatically detect multiple layers of material as well as hole locations based on search parameters and create virtual bolts. Points can be used for a more controlled search.
Similar to point fasteners, a multitude of fasteners construction are available, however, even more, complex behaviors can be added such as preload and failure stress.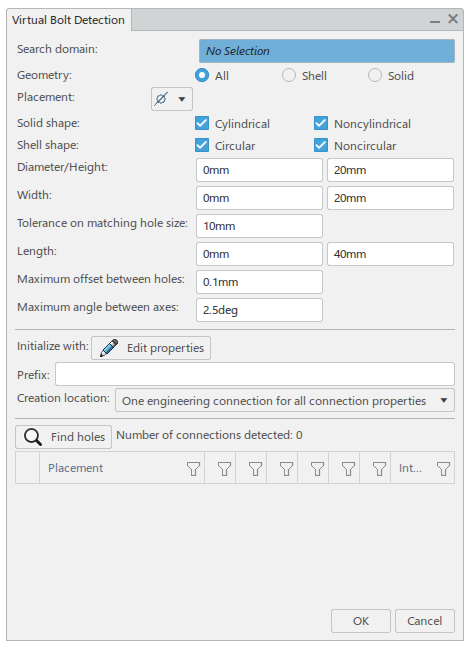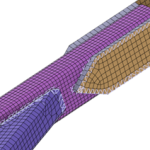 Line fasteners are very similar to the other detection methods, nonetheless, instead of points and holes, lines are used as locations for connections. Lines selected as the search location is where a weld would be located.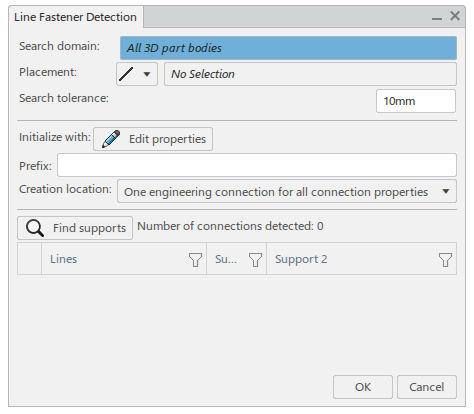 In addition to manually inputting the connection methods (rigid, deformable or other) templates, similar to mesh rules, can be used. Standardizing the methods used for specific fastener types.
Again, these templates can be saved and shared across team members and are available for all connection types.
To conclude, creating finite element models can be a long and quite tedious/repetitive task, the automation tools included in the Simulia 3DEXPERIENCE platform exist to help engineers and analysts reduce the time required to create these models.
Automated FEM creation and connection detection tools are the perfect tools for this job, allowing the machine to do the heavy lifting.
So, instead of time wasted on model creation, analysts can focus on other tasks more important to the end goals of their projects.
Thus, resulting in a quicker turnaround time on projects.