The COVID-19 pandemic exposed the failings of many businesses. The impact was felt at the level of the workforce, the supply chain, and information technology.
This global crisis has brought digital transformation initiatives back to the fore. For many manufacturing companies, Industry 4.0 is becoming the main strategic initiative.
What is Industry 4.0?
There is no unanimous definition for Industry 4.0.
According to Pierre Cléroux, Vice-President, Research, and Chief Economist at BDC, "basically, Industry 4.0 consists of real-time monitoring and control of your machines and equipment by installing sensors at every step of the production process." This definition focuses on the optimization of the means of production.
We would like to offer you a more general definition of Industry 4.0. In our view, Industry 4.0 aspires to integrate and optimize all aspects of a product from its design through its manufacture and operation.
Industry Revolutions
Each industrial revolution has made great strides in engineering and manufacturing tools and methods. During the Third Industrial Revolution, productivity gains were achieved through the automation and digitalization of processes.
We have thus been able to see the advent of robots in factories and IT management tools in offices (office automation solutions, CAD, PLM, ERP, etc.).
The fourth industrial revolution, meanwhile, tends to pair products from the real world with their representations in the virtual world. Once again, innovations in computing and robotics will be central.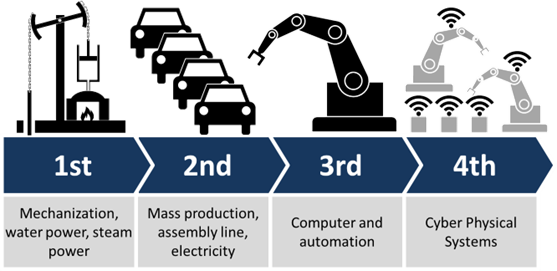 Pillars of Industry 4.0
Data is at the center of any Industry 4.0 initiative, and it comes from different sources. One of the major challenges is therefore to integrate and decipher the data to reveal useful insights.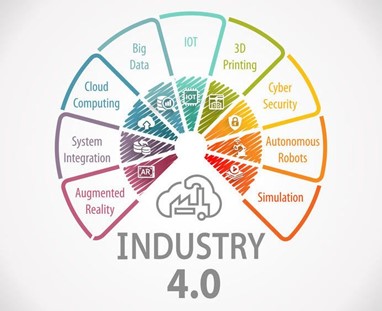 3 Reasons for Engineering to Embrace Industry 4.0
Break down silos to accelerate the development
The transfer of data between the development and production phases is a critical step in product development. Indeed, it is conducive to the loss of information due to a lack of integration between the different management systems. Unfortunately, this results in missed deadlines and cost overruns.
To mitigate these risks, it is, therefore, necessary to promote collaboration and the sharing of information within the same platform. A transition to a collaborative platform such as 3DEXPERIENCE allows operations to be digitized, and by extension, a movement towards industry 4.0.
Virtual twin, or how to plan the operation
During product development, late discovery of errors is costly. According to a NASA study, costs increase exponentially the further we progress through the life cycle.

To control costs, it is, therefore, necessary to detect and solve problems earlier.
Virtual twins make it possible to design and validate products very early in the process life cycle: Another benefit of Industry 4.0 digitization, which allows problems to be resolved upstream long before the products are even designed or in operation.
The value of leveraging data
With the advent of big data, companies are increasingly realizing the value of the data they produce. By merging digital engineering into Industry 4.0, we can capture all the data that went into creating a product.
The Harvard Business Review article "Unlock the hidden Value of your data", Stefaan Verhulst argues that the value of data is both monetary and social. The primary value according to the author is the reuse of data. This is achieved by breaking down data silos.
A concrete example of the value of data is discussed in the blog article "Closing the Loop in Engineering". You will be able to read how the fusion of virtual and real-world data allows us to generate predictions on the wear of pipes. Using our virtual twin and empirical usage data, we can then open up a new world of possibilities.
Our expertise with industry 4.0
As a Dassault Systèmes partner, Optimec Consultant has extensive experience in digital engineering solutions, including:
• Product life cycle management
• Simulation of products
• Digital manufacturing
With our expertise, we can help you implement a digital transformation approach based on connected engineering. We will also be able to support you throughout this journey.
Interested in learning more, chat with us today.