About Ker-Train Research 
Ker-Train Research Inc. (KTR) is a company founded on unique drive train technologies and innovative design approaches. Its main activities are research, development and specialty manufacturing of Ker-Train transmission technology. As a respected provider of modern, high quality technical services such as engineering design and analysis, as well as prototype manufacturing, KTR is always looking for new ways of improving design, analysis, and manufacturing methods to maintain its position as an industry innovator.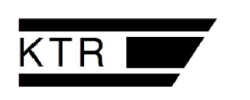 Challenge
KTR maintains a culture that encourages the idea of a single team rather than individual, isolated departments; this drives the quality and efficiency of KTR's iterative development work. 
Meanwhile, KTR's engineers were facing multiple challenges stemming from the limitations of their simulation software and consequent analytical inefficiency. KTR's high power density coplanar gearing incorporates unique addendum-form gear tooth flanks that are designed to provide extremely high contact ratios, and their software was inadequate in terms of efficiently delivering the level of contact and bending analysis required for the complexity of their gear tooth designs.
In addition to the time lost in addressing the above challenges manually, KTR's engineers had to analyze each component on its own in their limited FEA package instead of as a whole assembly, which led to large spreadsheet-style analyses with tedious hand calculations to determine how the forces were propagated through the assembly. To ensure the integrity of the calculations, component-level testing in the lab was often required. 
KTR was looking for a solution to help speed up product development time, manage design and development complexity and continue to deliver innovation to their customers and their industry.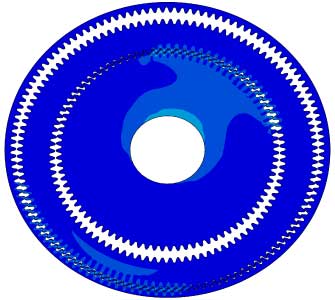 Solution
Ker-Train Research reached out to Optimec Consultants for a software solution that would reduce time spent troubleshooting in the lab, optimize their R&D activity and reduce their time to market with new innovations. KTR's engineers wanted a solution they could trust to deliver the complex contact and bending analysis required to bring their designs to fruition. 
Upon review of KTR's requirements, Optimec recommended Abaqus from Dassault Systèmes. Abaqus is well known for its leading technology in contact modeling allowing to accurately analyze complex rotational contact of gears both in 2D and 3D, predicting contact pressures, stresses, and deflection. Abaqus also possesses a large library of connectors to realistically represent bearings and bushings present in gearboxes. 
Combining these technologies in gear assembly models, the parallel processing capability of Abaqus can speed up analyses of such large models using multi-CPU and GPU hardware.
Working with Optimec Consultants feels like an extension of your own team. The Optimec team is very welcoming, helpful, and responsive, all while providing a wealth of knowledge in the simulation world. It truly feels like you're working together on a task or project rather than being one of their clients. From my past experiences, this is a rare quality that many companies don't possess. I look forward to a continued great working relationship on many projects to come.Mike Brown | Senior Design Engineer, Ker-Train Research Inc.
Benefits
The deployment of Abaqus simulation has been a success for the engineering team at Ker-Train Research. They have recorded a significant increase in productivity, up to 2 or 3x faster for any given analysis. This time savings allows them to simulate more scenarios, which in turn has allowed for a greater level of optimization and an increase in the quality of their product. The use of ABAQUS simulation software has allowed KTR to develop their gears and clutches as an all-in-one product that can by analyzed as an assembly instead of at the component level, thus moving the understanding of how the components work together upstream in the design process and decreasing time to market with new innovations. Overall, the quality of the analyses and accuracy of predictions has gone up significantly.
KTR's productivity gains have allowed them to take on projects they would not have been able to do before they adopted Abaqus simulation software. For example, they were able to take on some analysis work for a major client that required turnaround times of less than 3 hours which would have been impossible in the past. This increased agility and responsiveness to customer requests is a strong competitive advantage and their military and industrial clients recognize the added value of their simulation capability. 
Since incorporating Abaqus into their design and development process, KTR has increased their ability to provide all-inclusive engineering services from concept development through simulation and detailed design to prototyping and testing.
Finally, the KTR engineering team has benefitted from a boost in confidence in their ability to execute efficiently using a solution that they can trust. Looking forward, Ker-Train Research is aiming to optimize their R&D even further with digital modeling and virtual simulation before real-life testing.